On Wednesday the 3th of November 2021, the Roosevelt Institute for American Studies hosted a film screening of the documentary Three Women: About Slavery and Freedom. The event was hosted in commemoration of Black Achievement Month; a festival which aims to celebrate the achievements of cultural talents from the black diaspora. We were honored to have director Ida Does and winti priestess and film co-protagonist Marian Markelo as our guests, with whom we had a fruitful panel discussion after the screening.
Three Women follows three women's involvement in the heritage of slavery: Valika Smeulders (heritage expert), Marian Markelo (winti priestess), and Ellen-Rose Kambel (researcher). All three women advocate for a recognition of the role of slavery in Dutch history and the vividness of that history in our present. Film director and producer Ida Does has also won the Los Angeles Independent Women Film Awards for best documentary feature for Three Women.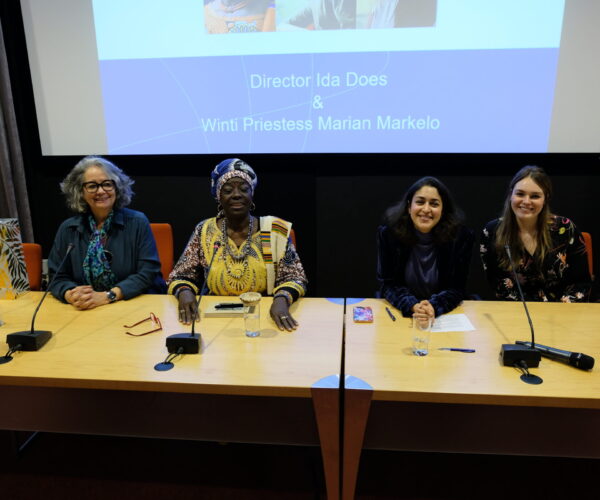 The film screening was followed by a panel discussion with Ida Does and Marian Markelo. RIAS PhD candidates Manar Ellethy and Marcella Schute asked Ida and Marian several questions related to the making of the documentary, the role of women in visual culture, reactions to the documentary, the importance of the element of reconciliation throughout the film, as well as questions about symbolism and visual culture as a form of education and resistance. The panel discussion was followed by a wide variety of questions from the audience, who for example asked more about the importance of the winti religion and the underlying meaning behind confrontational scenes in the documentary. The panel discussion was insightful and eye-opening with regards to how the Netherlands deals with its colonial past. Ida and Marian's answers were inspiring, educational and hopeful.
The RIAS PhD Candidates also showed our guests around Middelburg and  they visited the slavery monument located near the Abbey.