Short Story II (2019
It has been two years since I last wrote an update for the RIAS website, and more than three since I finished my internship at the then called Roosevelt Study Center. It is true that time flies!
I am now almost at the end of my journey as an MA student in Filmmaking at the London Film School. In the last two years and a half, I have got the chance to work on an incredible number of films in different roles, getting experience in every single craft of filmmaking, from cinematography, editing, assistant directing, and more. Most importantly, I had the chance to write and direct a short film in my second year. My passion for history, that lead me to the RIAS in the first place, remains very important for me as my films tend to be based on historical subjects.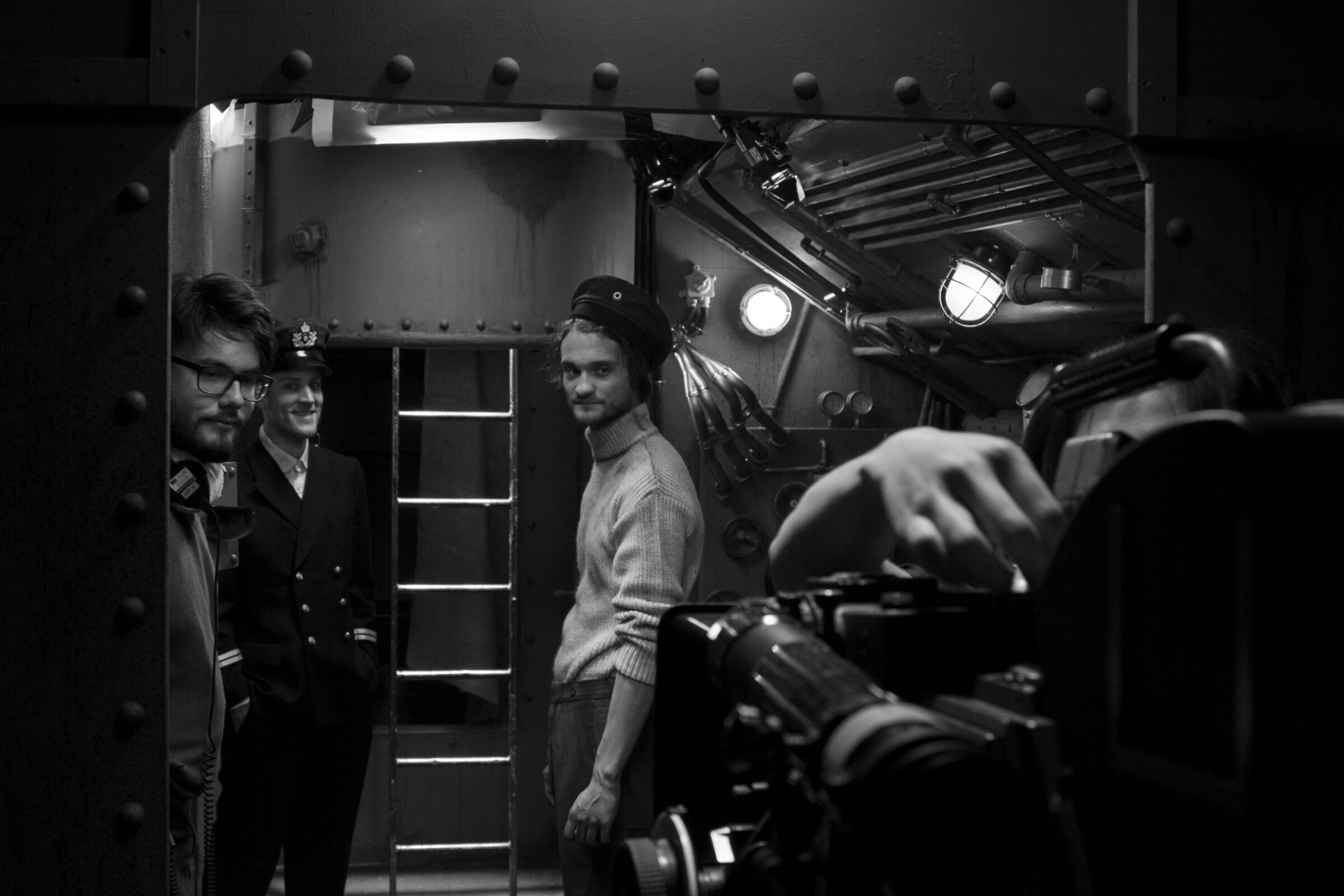 My second year film, titled UB-13, is set on a German U-boot during the First World War. The story follows the physical and mental struggles of the crew once they are forced to wait on the bottom of the sea facing the threat of enemy torpedo ships. In particular, the interior struggle of the ambitious young captain, whose bad call put the whole crew in danger.
It was a challenging film in many ways, not the least because it is entirely spoken in German (a language that I do not speak myself), and because we needed to build the submarine interior in a studio, recreating this claustrophobic environment in every detail. We also shot on analogue 35mm film, which brought its own set of challenges. While I am aware that it remains a student film with some flaws, I am quite proud of the result!
UB-13 got the chance to screen in several filmfestivals: it premiered at the famous Chinese Theatre in Hollywood during the Hollyshorts Film Festival, and it went on to win a prize at the New Renaissance Film Festival in London. Later, it was also screened in London again at the Imperial War Museum. The film is now available online for everyone to see!
In the last few months, I have been working on preparing my next film, which will be my graduation project: this time, I will be making a film in the Netherlands, and specically, in Zeeland! This film will be titled Meidagen and it will follow a Dutch soldier stationed in Zeeland during the first few days of the Second World War, in May 1940. The story is inspired by the real life experience of my great-grandfather, who was stationed in Zeeuws-Vlaanderen in those days, and based on a book that he wrote about his time in the army.
We are planning to shoot at the end of April in Zeeuws Vlaanderen as well as in other locations in Zeeland. We have received the support of several partners already, including the Prins Bernhard Cultuurfonds, but we have also launched a crowdfunding campaign to put together the last funds to be able to start the project.
I am extremely happy to be able to return to Zeeland to make this film: the project is not personal to me only because it is a family story, but also because I have lived and studied inZeeland myself for almost four years. I feel a strong connection to this province and I am happy to give back to it in the form of a film!
All things considered, it feels like the perfect project to return to where I started since I graduated from University College Roosevelt three years ago, and to mark a new beginning as I am start the next stage of my career in the filmindustry.
WATCH UB-13 HERE:
Short Story I (2016)
It has been a year since I finished my internship at the RSC, and my life has taken new exciting directions since. I was an intern the RSC at a time in which I was still very unsure on how to proceed after my studies at University College Roosevelt: while the liberal arts education that UCR offered was perfect to suit my broad interests, it left me with the possibility of different career paths, and I have always found choices to be hard.
Spending some time as an intern at the RSC made something very clear: a career in the academic world was not cut for me. While I consider the work of researchers, at the RSC and all over the world, very valuable, and I remain fascinated by historical research myself, I wanted to do something more practical, and output something creative into the world. For a long time, I have had an interest in films and filmmaking, which I had tried to foster during my time at UCR by making short films and other videos with fellow students (as a certain RSC staff member surely remembers, having once participated as a very convincing extra).  I decided to turn this passion into a profession, and since September I moved to London to pursue an MA in Filmmaking at the London Film School, one of the world's best film schools.
Studying at the LFS is quite a different experience than UCR: the MA in Filmmaking is a very practical course focused on learning a specific craft, and it is located at the heart of one of the biggest cities in Europe (Life in London, indeed, buzzing with people and full of opportunities, is quite a change coming from the quietness and 'splendid isolation' of Middelburg). Nevertheless, there are many aspects that are somehow in continuity with my previous studies: it is a small school, offering a very intensive course, with students from many different nationalities and life experiences. Most importantly, it is quite multidisciplinary within filmmaking itself: the course does not have a specialisation, which gives me a chance to explore all the different areas of filmmaking (such as directing, cinematography, editing, production, etc.) and to learn a bit about all of them.
The core of the curriculum is learning the craft through making many films. In my first term, I worked on two 3-minute silent films in black and white, shot on 16 mm: starting at this very basic level allowed us to focus on telling a story solely through images, which is in itself the basis of filmmaking. Next to these two silent films, I also worked on several smaller exercises, shot in limited time and with a limited crew. The learning curve is steep, introducing new challenges at every new term: in the second term, for instance, from January onwards, we will also use sound, colour, and lighting. Since film is a collaborative process, a big part of the learning experience is also working together with other people, cooperating towards the same goal while having different roles. By the end of the program, in less than two years, I will have worked on several films of increasing difficulty, with different roles, and I hope I will be ready to start a career in a challenging and competitive field like the film industry
I am very happy with my experience at the LFS so far: I feel like I am learning a lot and honing useful practical skills, and at the same time I am also forced to think about film and storytelling on a higher level than as a simple spectator. I am glad that the main focus of the London Film School, rather than the technical details of film production, is how to tell stories effectively on film and how to bring out one's one creative voice. For this reason, I think that my studies at UCR, as well as the time spent at the RSC, have provided me with some very important bases that prove to be useful every day: the joy of discovery, critical thinking, a better understanding of the world and human condition, the ability to approach complex topics and relate them to their cultural and historical context.  All of these are particularly important for every aspiring filmmaker, because every film is ultimately a representation of human experience.
My internship at the Roosevelt Study Center took place at a crossroad in my life, and even though I did not go down the path of American Studies, I will surely always keep feeling a connection with the study of American history and with all the other topics that can spark one's curiosity at the RSC. It is perhaps not a coincidence that one of the very first small exercises I made at the LFS could count on, quite coincidentally, a truly exceptional and familiar character: Franklin Delano Roosevelt. While I am not sure if I should be happy for this exercise (which you can see below) to be representative of my work so far, I hope you can have a good laugh while watching it, which was the purpose all along.