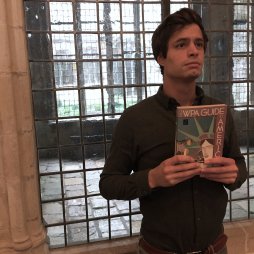 The past three months I've worked as an intern at the Roosevelt Institute for American Studies (RIAS). My period here was characterized by the transformation of the old Roosevelt Studies Center (RSC) into this new institute. I count myself lucky, because it gave me a chance to witness the challenges of such a transformation, as well as providing an insight into the ways a place like this works to define itself in the—and this came as a surprise to me—competitive world of professional research.
The skeleton crew that remained after the departure of Kees van Minnen and Hans Krabbendam had to work hard to get everything done, and I assisted where-ever I could, though most of my time was spent on regular RIAS intern tasks. These tasks included managing the library and the archives, which among other things meant processing loans and returns, helping visiting researchers with finding and scanning their materials, and preparing one of RIAS' collections—the Radical Periodicals in the United States—for digitalization in the U.S. Other tasks included assisting Dario during student excursion from Dutch universities to the RIAS, helping with translation, running errands in town, ordering new books for our researchers, helping with the NASA website and the RIAS Facebook and Instagram accounts. This social media and website building side of things proved to be a valuable lesson. I've never been one for social media, and I'd never managed a webpage, but to be forced to work with these things was something that needed to happen for me, because it was past time I started using them.
Another valuable experience was simply working with tangible primary sources. The RIAS had allotted about a third of my time for my own research, as they do with all interns. I have to admit that I had only sporadically worked with non-digital primary material before coming to the RIAS, and, even worse, I had never before visited an archive with the aim of using the sources. I know I'm not the only student of history who's guilty of this; during my MA program physical archives weren't really mentioned. This is a shame, because the principal difference between physical and digital archives has everything to do with restrictions: unexperienced researchers like myself and most of my fellow MA students are millennials, and, rather paradoxically, we tend to have an unrealistic view of what the internet has to offer. We are sure that it is limitless, and accordingly come up with research proposals that know no bounds. Working in a physical archive, on the other hand, has a way of forcing you to get realistic about what's out there, and more importantly, get creative about how you should use it. In short: the archives of the RIAS are important not only for what they contain, but also for what they represent: a place where a researcher could do an honest day's work—and all that in a beautiful 12th century abbey to boot.
I want to thank Leontien, Dario and Giles for having me here at the RIAS, for their support and for including me in just about everything. The best of luck to you and I'm sure I'll see you again someday.