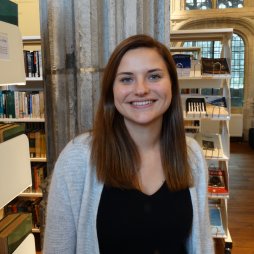 From October through December 2018, I have been staffing the RIAS library with great pleasure.
My internship at the RIAS has provided me with valuable skills and knowledge. I have learned to work together on projects such as compiling newsletters, organizing conferences and on daily tasks such as the administration of the library.
During my internship there were plenty of visiting researchers, with all different, but equally interesting research topics. One of my tasks included providing guidance for them. I also often helped these researchers with their search for useful material in our archives and library.
I have also had the opportunity to work on my own research project on The Indian New Deal. I have made use of the RIAS' extensive microfilm collection, which has taught me important skills for doing primary source research.
One of the RIAS' biggest assets is its great team of staff members. Each and all of them have provided me with interesting insights and valuable skills. They helped me with my own research, as well as with my other daily tasks. My time at the RIAS has been a useful and interesting experience and has broadened my interests in a variety of different topics of American history.