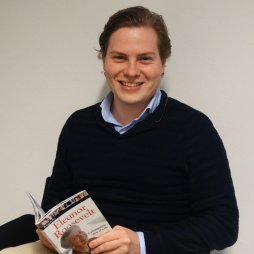 During the RIAS internship I learned from the (visiting) researchers, and experienced the academic world, and I laughed with the friendly staff.
I helped organize some interesting events during my time at the RIAS. There were several student visits and lectures that were held at the institute, and it was great to be able to attend such occasions. Moreover, I was able to participate in several PhD seminars and workshops, all of which were very informative and really helped me in getting to know my potential career path. This was also true for visiting researchers, since all of them were very friendly and eager to talk about both their topics and their lives as academics. 
One of the highlights of my internship was getting to meet the Japanese ambassador, who visited us in January. We showed him some of our primary sources, including a letter written by Theodore Roosevelt to the Japanese Emperor, which he very much enjoyed. 
Aside from such tasks, there was also much time for me to work on my own research. The RIAS library is an inspiring place to do research, and offers direct access to many sources. Furthermore, working at an academic institute conveniently allowed me to discuss my topic with professors, senior researchers, and PhD candidates. I feel that I became much better at writing and researching due to their feedback. 
I would very much like to thank Damian, Giles, Dario, Cees, Celia, Nanka, Rosa, Paul, and especially Leontien for the fun coffee (and later on, tea) breaks and lunches, as well as for making me feel included. I am certain I will visit the RIAS many times in the future.