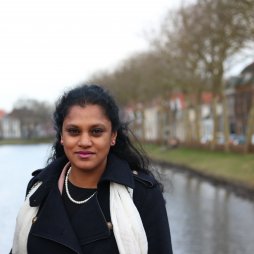 Originally from Sri Lanka but adopted and raised in the Netherlands, Nanka de Vries received an MA in Cultural Anthropology and Development Sociology as well as an MA in Political Science (International Relations) in 2009 and 2010, respectively, both from the University of Leiden.
Her interest in American history and civil rights was strengthened by an internship at the Martin Luther King, Jr. Research and Educational Institute at Stanford University in the United States, which was followed by a traineeship with the United Nations in New York.
Both experiences led to the focus of her PhD, which explores the promotion of democracy, the UN and the role of Eleanor Roosevelt during this process. More specifically she focuses on the leadership, advocacy and activism of ER during the draft of the Universal Declaration of Human Rights, her stint as the chair of the board of the American Association for the United Nations (AAUN), her appointment as a representative of the first US delegation to the UN, and her tour abroad to promote the UN.